The Essence of the Earth Pack: 2 Arlequí + 2 Dent de Lleó + Miel + olive oil
RED AND WHITE OAK AGED WINE, HONEY AND OLIVE OIL 
Do you want to change any of the products in this batch? Would you like to add a gift voucher for a wine tourism activity?
Our batches are totally customizable!
Contact us to know more.
This pack has a weight of 6.9 kg
A SELECTION WITH A MEDITERRANEAN ACCENT
Arlequí: Its colour is intense and dark with garnet touches. It has a complex and elegant aroma such as ripe plums, scents of vanilla and roasted coffee beans. There are also notes of certain minerals that transport drinkers to the highest vineyards of Mas Vicenç. An intense, rounded wine, with hints of wild fruits, dark chocolate and balsamic.
Dent de Lleó: A wine with a clear and bright color. It stands out for its perfect and elegant combination of floral aromas, such as the orange blossom with soft notes of cinnamon and pastries. A very creamy, delicate and persistent mouthfeel. Full of sensations.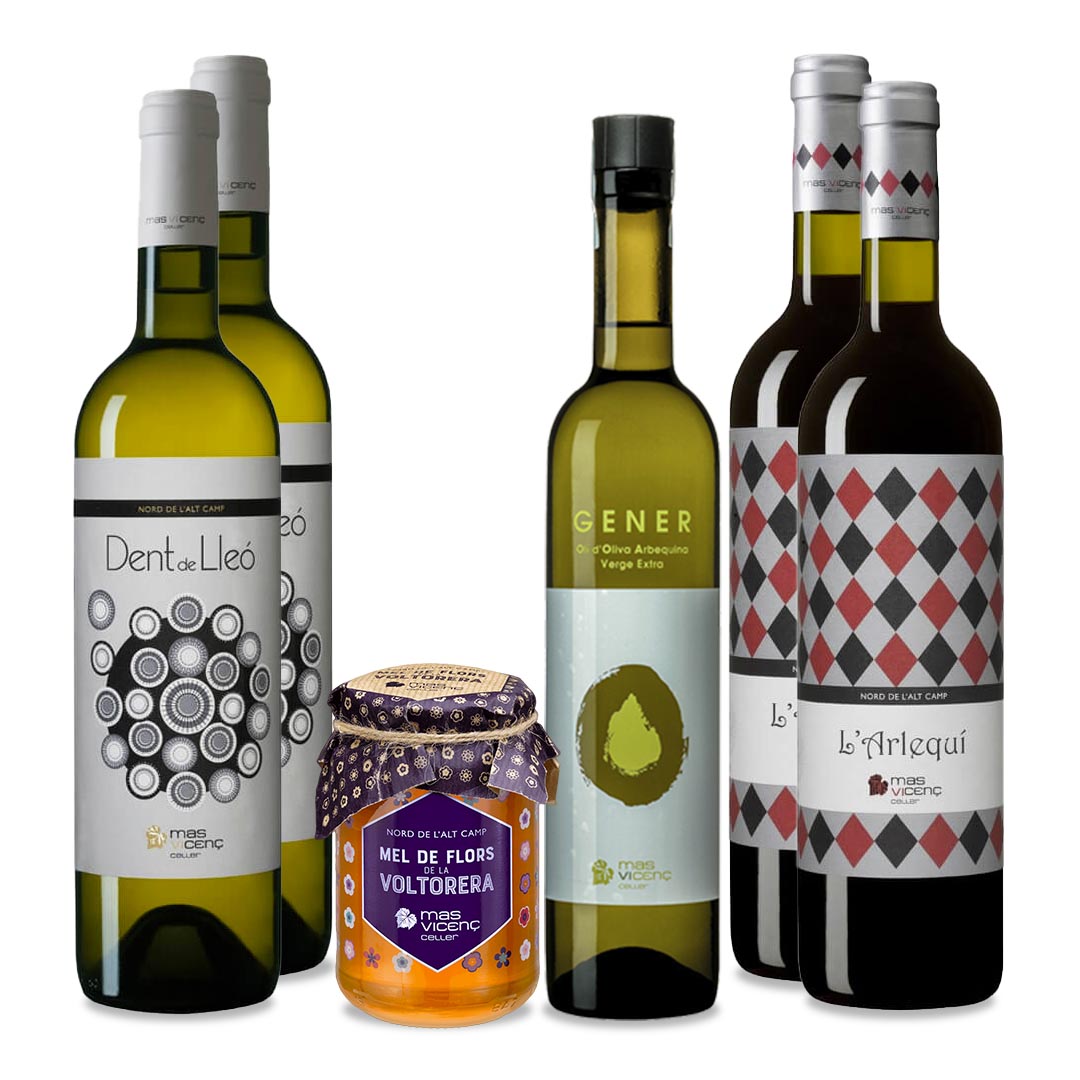 Miel de Flores: Beehives are found among different family crops such as almond trees and vineyards. Honey is born with a clear intention of preserving the ecosystem since bees maintain an essential role in the pollination of flowers and help nature to have a better stability.
Gener:
The scents of vegetal character are reminiscent of the Tomaquera plant or the carxofa with a dolcenc background that associates with the star d'anís.
The palate is fi but intense, from which the fresh Arbequina sensation stands out as soon as it enters the mouth. From Lleugera Acidesa, Gener had a silky finish and a spicy punt.